Welcome to The Perfect Sweet Shoppe! Here you will find MACARONS in numerous colors and flavor varieties! At The Perfect Sweet, we take great pride in producing the highest quality locally handmade macarons available! We use only the finest ingredients, including fresh egg whites, real butter, ground almonds, all natural fruit extracts, dried fruits, purées, and juices, as well as, couverture chocolate (Valrhona® Callebaut®), and other locally sourced ingredients. The only artificial ingredient we ever use is color when called for, to ensure that our macarons present themselves to you in the most eye-catching and appealing way possible!
We offer all kinds of options for CAKES, CUPCAKES, COOKIES, BROWNIES/BLONDIES and lots of other baked goods! Check out our cake ordering options for your next special occasion! Whether you just decided and want to stop in for one of our 6-inch Case Cakes, you need something special quickly (minimum 48 hour notice on our special order cakes), or you are thinking ahead and want to order a custom cake that you have in mind or would like help designing, WE ARE HERE FOR YOU!
Additionally, we have lots of other baked sweets that can be purchased in house or by special order. Either order online or contact us through this site! We look forward to hearing from you
Featured Products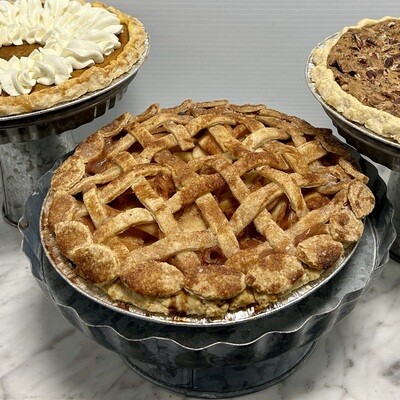 Double Crust Apple Pie (9-inch)
Double Crust Apple Pie (9-inch)
Order TODAY for Thanksgiving 2023!